Just over a year ago, Abby joined our family as a 9 week old bouncy Rottweiler puppy. It was an adjustment for everyone, but particularly the pug who was unaware that she would not stay 13 pounds her whole life. He terrorized her only to learn the meaning of payback as soon as she towered over him.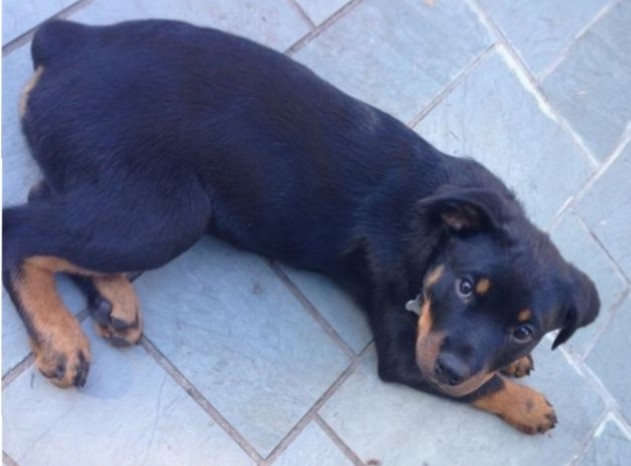 Now she is a sweet 15 month old who underwent amputation surgery today for her back left leg. We never thought we'd be here, but it all started 8 weeks ago when we took her to the vet because she would only stand on 3 legs, particularly when she ate. I originally assumed it was just a quirk, but as it progressed I figured we should make sure she didn't have a piece of glass in her paw or something. I was horrified to hear it could be a torn ACL, but that paled to the suspected bone cancer that showed up on the X-ray a few minutes later. Her knee joint basically looked like Swiss cheese and we were warned she was at high risk for breaking her tibia. She stayed overnight and had a biopsy the next day.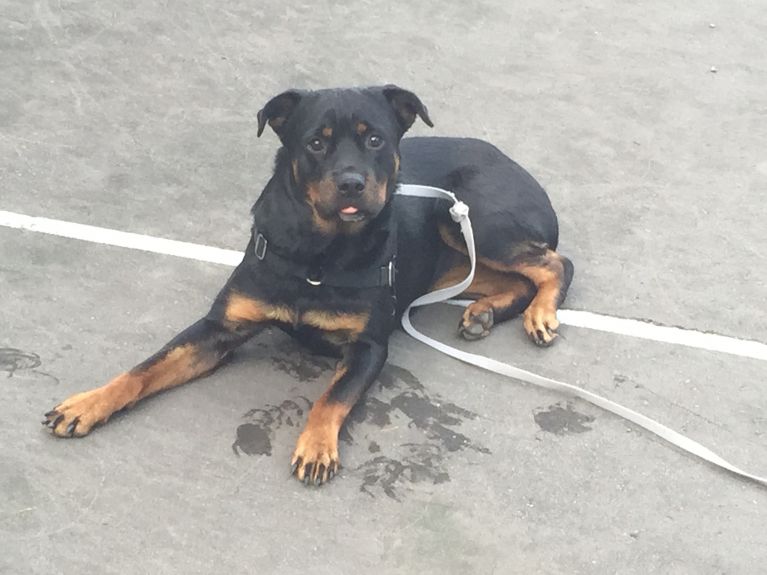 She was put on rest while we waited two weeks for the results. Have you ever told a puppy to REST? We finally found the right combination of medication that allowed her to be herself and put up with the vast change of lifestyle. The biopsy was sent to two labs and eventually came back negative for cancer. She was diagnosed with "reactive bone proliferation" as a result of an injury, although there was no injury that we ever witnessed. An open incision biopsy was suggested, but we declined because we were confident that she didn't have cancer. She wasn't in pain and she was still our happy girl!
2 more weeks of rest… X-rays at one month looked about the same which we took as good news because an aggressive cancer would have spread.
4 more weeks of rest…. X-rays at two months looked awful. Knee joint was even more patchy and the tibia was darkening, which to my untrained medical eye basically looked like it was dying compared to the bright white one on the right.
In the end, we declined the additional biopsy, choosing to spare her the pain for something that would offer her no relief. We now see that she is in pain, despite the fact that she masked it so well for so long. We originally just wanted to let her live out her days running on the beach and eating ice cream, but even that sounded like a fairy tale we couldn't have. If it is osteosarcoma, it will be progressively painful and the risk of a pathological fracture is great.
We don't have a diagnosis yet, but she did successfully come through surgery and should come home with us tomorrow. Here is our dear Abby resting comfortably at the vet. Super sweet that they sent us a picture!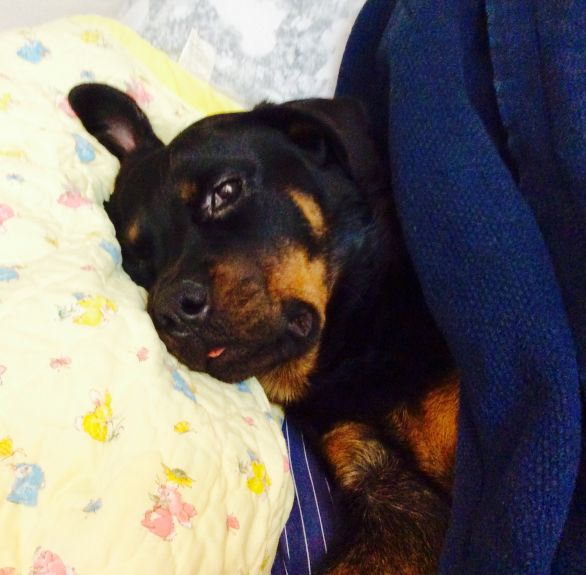 Paws crossed that, in a few weeks, she'll get to run on the beach and be a puppy again!
[subscribe-by-email-form autopt="true"]