It's been a while since I've posted and I'm wishing I had come back sooner with good news because there have been lots of good times in the past several weeks. Abby is such a sweet girl who makes friends everywhere she goes. Anyone who thinks Rottweilers are evil and ferocious has never met her. Here she is in one of my favorite poses which I refer to as her donut look.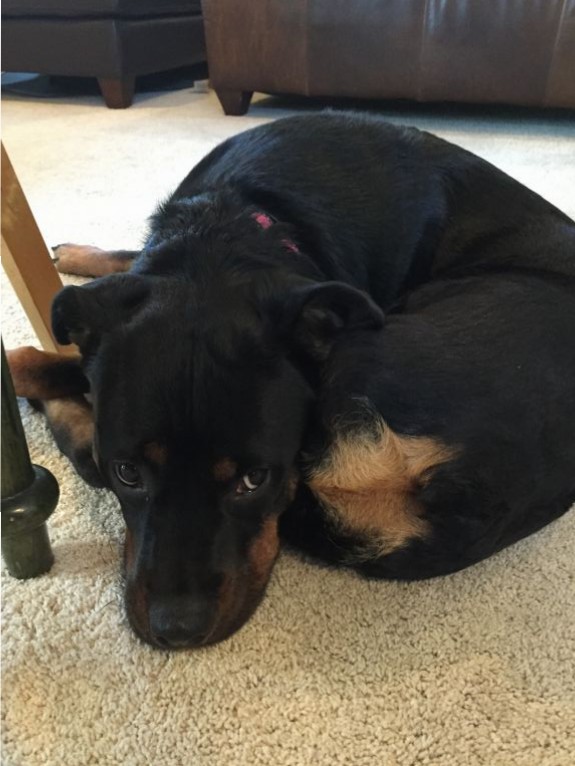 Unfortunately, today I come back with not-so-good news. Abby was supposed to have her 4th chemo session just before the holidays, but her white blood cell count was low so we opted to wait until after Christmas. Today was one of those days when you go to the vet with a single-minded focus – just get the chemo dose. She looked good so I assumed her blood count had recovered and we'd be in and out in under an hour. Her numbers were fine, but they found a mass on one of her front legs. In the end, the mass was nothing, but it prompted x-rays which revealed lung mets.
We had x-rays done just 4 weeks ago and everything was normal, so–even though I know osteo spreads to the lungs– the diagnosis was still unexpected, and devastating, to me. She's so young and so full of life and cancer can be so unfair!!!
We are moving to the next stage of medication which is a daily oral dose of dasatinib, which, as I understand it, is a tyrosine kinase inhibitor. As my vet explained, the carboplatin was designed to target microscopic cancer cells and prevent them from rapidly dividing. Since we're no longer at a microscopic phase, we're moving to a drug that has the potential to work in a different way (which I can't effectively explain). Sadly, she has many mets in her lungs and two of them are at least 5 cm. This is apparently very aggressive growth in 4 weeks and is likely just the way cancer behaves in a dog that was struck at such a young age.
The medication is coming from a compounding pharmacy so we'll get started tomorrow. We've been told that in clinical trials, it has been very effective in 30-50% of dogs. Unfortunately, there isn't definitive data out there right now that says exactly which dogs with which disease the drug will be effective on, so we're relying on HOPE!!!
It's been a long day, but at the end of it, I am faced with the realization that we don't go through all these extraordinary measures just for the hope of extra years of life. We go through them for the here and the now. If we get extra years, that is a bonus. At the end of the day, I cherish each and every moment I have with her. Even the hard times.