Hello Tripawd friends! It's been nearly 6 months since we lost Abby and our family has been all over the map on what our future holds for dogs. I wanted an adult rescue Rottweiler, my husband and youngest son wanted a puppy Rottweiler, and my older son thought we should go back to being a one dog family. If the pug could have voted, he would have voted to remain the only canine child too!
We came close to getting a Rottweiler puppy recently, but the two in the family who most wanted a puppy wanted another female and our breeder's litter didn't have any available. I signed up to be a foster family with our nearby shelter in hopes of satisfying the son who wanted a puppy this summer. He thought it was a terrible idea. In his words, "why would we get a dog at it's most difficult stage and then give it back???" I convinced him to at least try it out.
Our first puppy came to us two weeks ago on just a few hours notice. She was billed as a Chihuahua/Shih-Tzu with kennel cough.  Not a dog I've ever contemplated, but it's just a foster, right? Just past 3 months, she was up for adoption, but needed a break from the shelter to recuperate. Her name was Sunshine and she was ADORABLE!!! With her little brown monkey face, she didn't look at all like her name so we quickly renamed her Gizmo after the Gremlins movie – and then made sure we didn't give her food or water after midnight!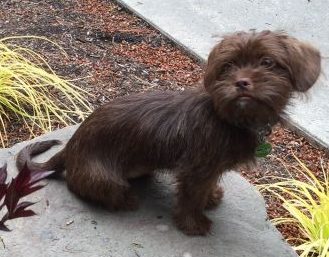 She is, by far, the easiest puppy I've ever had and is happy both laying in my lap and playing outside where she loves to run and jump and chase anything that flies. She gets along with Quinn and he even manages to tolerate her, despite the fact that he is Alpha Pug of the House. A few friends wanted to adopt Gizmo immediately and asked how I could possible give her back, but I was resolute. We were just her temporary stopping place.
My husband caved first. Then my younger son. After long family talks about how we are only getting ONE puppy this year, it was decided that Gizmo needs to stay with us. If it is possible to take all of Abby's sweetness and lovability and repackage it into a tiny 6 pound dog, this is Gizmo. I keep thinking about the book A Dog's Purpose by W. Bruce Cameron about how a dog keeps coming back to its true family. Gizmo officially joined our family two days ago!!
I don't think she's likely shih-tzu or chihuahua, so I uploaded her selfie to the Microsoft Fetch app which does doggie facial recognition. The proclamation was 50% Affenpinscher. I had never heard of that breed before, but once I read the description as Monkey Terrier, I knew we were on the right track. Even better was this personality description from the Affenpinscher Club of America site… this breed often possesses a "big dog in a small body" mentality. This boldness makes it necessary to be cautious that your little "Rottweiler wannabe" does not inadvertently provoke an attack by a large dog. It is this same bold attitude, however, that also make them such a joy to own.
Welcome Gizmo! You are already a joy!